Manycoins Bank
Edit
The manycoins bank in neverwinter is a building that many a thief has tried and failed to get into..  Protected by feirce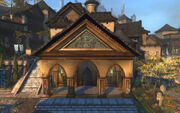 magical wards and large stoic guards this bank is a varitable fortress and the most secure place you ciould think of to hold your Burgeoning fortune!  In the centre up the steps under the main arch stands the guild banker.  Here you can place items for use by your guild and associates and also donate cash to aid in your guilds development..  The smaller arches to each side hold the personal bankers there for your own needs and collection fetishes! 
Now you only start off with one bank tab holding roughly 14 slots..  Its usually a good idea tos pend some zen on thisa to increase this as it will fill up pretty sharpish!
Ad blocker interference detected!
Wikia is a free-to-use site that makes money from advertising. We have a modified experience for viewers using ad blockers

Wikia is not accessible if you've made further modifications. Remove the custom ad blocker rule(s) and the page will load as expected.